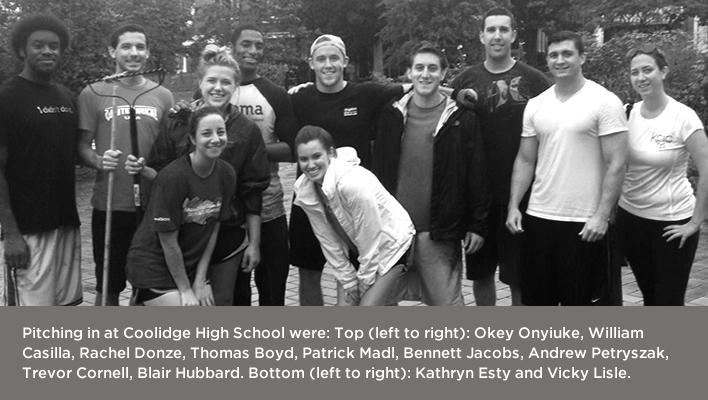 For the third consecutive year, KCIC employees participated in the District of Columbia Public Schools' Beautification Day to help with an outdoor beautification project at a local high school. This annual DCPS event was established in 2005 as a citywide "spruce up" of all DC public school buildings in preparation for the first day of school. Beautification efforts throughout the city include landscaping, trash pick-up, light painting, planting flowers, and more. Volunteers, along with donated supplies, make it possible to support over 100 schools.
Braving pouring rain during the first part of the day, about 15 KCIC participants ventured to Coolidge High School and worked to clean up the school's impressive garden and marquee — cleaning up and weeding, while picking up gardening tips along the way.
It's tremendously gratifying to be part of efforts to spruce up the school and garden, in particular. Besides being a great source of pride for the school community, the garden provides rich, hands-on learning opportunities for students.
Teachers and members of the school's alumni association singled out our team for contributing to the project. It's one more example of how KCIC gets out into the local community to give back however we can.