Introduction
The U.S. Environmental Protection Agency recently announced that it will soon move toward regulating two substances, perfluorooctanoic acid (PFOA) and perfluorooctane sulfonic acid (PFOS), collectively "PFAS". PFAS, also known as forever chemicals, take an extremely long time to break down in the environment.  They are man-made chemicals that have been used in food production, household products, fire-fighting foams, and even clothes since the 1940s.  In 2006, 8 of the largest PFAS manufacturers committed to cutting its use by 95% in the "PFAS Stewardship Program." Despite these companies succeeding to meet the goals of the program by 2010, lawsuits against them, and other manufacturers have grown in the last decade. Aggressive plaintiffs' firms have brought actions on behalf of individuals, as well as state and local governments, over alleged water contamination resulting from PFAS releases.
Why is this Important?
Virtually every American has been exposed to PFAS to some degree, and since the chemicals do not break down naturally in the environment or in the human body, the risk of serious health effects may be substantial.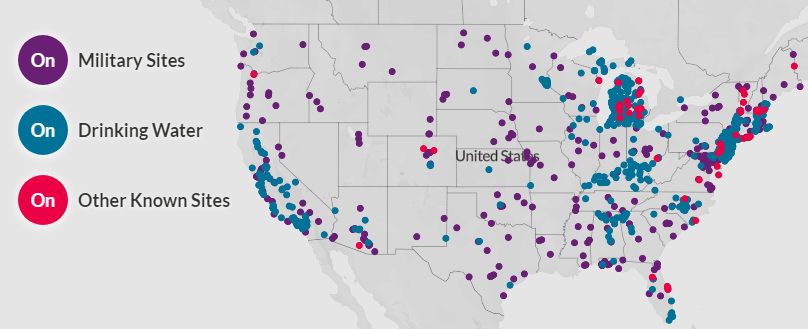 Figure 1: PFAS Contamination in the U.S.[1]
The Environmental Working Group has identified PFAS sites in every state except for Hawaii (see Figure 1).  More sites will continue to emerge as dumping grounds for PFAS are identified in the future and the sources for this contamination could turn blame to any company with even minimal connection to the site.
Many companies that produced or used products containing PFAS have already been sued, and the product list continues to grow along with the hysteria of this growing environmental concern.  In August, New Food Economy released an article that sparked an uproar about the molded fiber bowls used in many restaurants.  The article suggested that these bowls contain high levels of PFAS compounds.  The study measured how much fluorine was present in a sample size of 19 bowls. Large strides must be made to establish qualified laboratory analysis of PFAS contamination and safe levels in the human body, but this does not mean that the flow of lawsuits will wait.
Who is affected?
Since PFAS is found in many different products and companies like 3M and Dupont have begun to settle their liabilities, lawsuits will continue but will likely now target smaller manufacturers, distributors, and commercial consumers of the chemicals.
So far, the litigation has led to incredible settlements, including an $850 million settlement between 3M and the State of Minnesota and a $670 million settlement between DuPont and a group of workers and residents near one of their facilities. This, along with the EPA announcement that it plans to identify PFOA and PFOS as hazardous substances under CERCLA, means we can expect the plaintiff firms to continue bringing claims on behalf of individuals, water providers, and governments.
What Can Companies Do to Protect Themselves?
Stay on top of the developments around PFAS. The legal landscape is constantly changing, and no company wants to be caught off-guard. By monitoring the cases, EPA announcements, and state legislation, companies can better understand their potential exposure to PFAS-related liability.

Take stock of your current insurance. For companies that may be at risk, it is imperative to gather and organize any and all insurance policies that may be relevant to this issue.  With corporate transactions and many decades of potential contamination, this is easier said than done.  Knowing how a company's coverage compares to its potential losses can help direct decisions around this issue.

Understand the terms and conditions of the insurance. Depending on the nature of the claims made against a company, certain provisions in insurance policies may mean the difference between having coverage and being left out to dry.  Pollution Exclusions became common in the 1970s which might nullify coverage for some environmental claims, but bodily harm cases could still have coverage.  Additionally, the terms of notice (contained within each policy) will be extremely important once a company becomes aware that losses are a possibility.

Track and categorize your expenses. Dealing with this issue can be expensive.  Meticulously tracking and categorizing costs will ease the burden of collecting from insurers who have issued policies. For example, some insurance policies may cover remediation expenses but exclude cleanup costs, so it is important to know where the money was spent.

Consider the allocation of liability: In cases like these, there are often many potentially responsible parties. Knowing who these parties are and developing methods to allocate the environmental response costs and other damages among the multiple parties is important in order to assess actual liability.
Regardless of what the future holds, issues surrounding PFAS are clearly here to stay. KCIC will continue to share information through our blog as it becomes available.
 [1] Environmental Working Group. PFAS Contamination in the U.S.