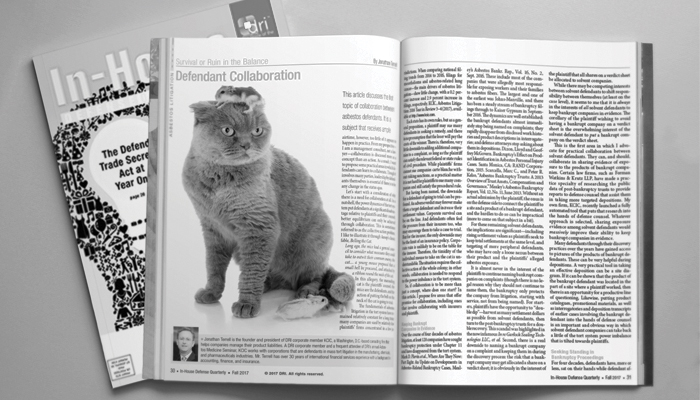 The fall issue of In-House Defense Quarterly magazine, DRI's national publication, features an article I penned: "Survival or Ruin in the Balance: Defendant Collaboration."
What prompted me to write the piece?
I have been around the U.S. tort system for over 20 years, observing on an almost daily basis the triple dynamic between plaintiffs, defendants and insurers, with an emphasis on asbestos-related litigation. I wrote from my perspective as an insurance company executive and — for the last 15 years — as President of KCIC, exclusively helping defendants better manage their product liabilities.
A quirk of the U.S. legal system that is relatively unique in the western world is that the rules of civil procedure allow plaintiffs to name multiple defendants on any one complaint. The more common approach, internationally, is for a plaintiff to seek his/her entire remedy from a single defendant (who may, in turn, seek contribution from other responsible parties). Another established principle internationally is that the losers in litigation must pay the expenses of the winner. This is not a well-established principle in U.S. courts. There is, therefore, little restraint on plaintiffs from following their economic incentive: to sue as many defendant companies as they can get away with.   
The result? KCIC has a unique perspective given that we process the vast majority of the asbestos complaints filed in the U.S. According to the data published in our 2016 Asbestos Litigation Report, about 10,000 unique companies were named as defendants on asbestos complaints in 2016, and on average, 66 companies were named per complaint. Given that over 4,600 asbestos-related complaints were filed in 2016, simple math tells us that over 300,000 actions were required to answer these complaints. Each of those companies named on each of those complaints, with few exceptions, must engage counsel, answer the complaint, and proceed with litigation through dismissal, settlement or trial. This represents a major tax on the vitality of the U.S. economy and a major distraction, too. Consider also that according to recent data presented by RiverStone Insurance Group, just 20% of the dollars expended find their way into the pockets of the actual plaintiffs, the actual victims of asbestos exposure.
"This power imbalance is a racket, a shakedown, that has little to do with justice and everything to do with a parasitic business practice."
It gets worse. For a plaintiff, the downside of going to trial is negligible. The downside for a plaintiff firm is higher, since the firm undertakes its work based on contingency fees — they have their own litigation costs, but little chance of an award being made against them. The downside for an insurance company controlling the defense may be higher: the limit of the insurance policy under which they are providing the defense. But for the defendant company, the downside of going to trial can be enormous, a matter of corporate survival. Not only do they risk a multi-million-dollar award against them, with potential punitive damages and highly intrusive discovery. In addition, their profile will inevitably be raised, leading to higher claim counts. And, a verdict will forever raise their settlement values, as well. The result can easily be catastrophic, changing a defendant company from peripheral to target defendant overnight.
Given this dynamic, it is not surprising that most defendant companies, most of the time, would prefer to pay something to get dismissed from the case rather than gear up and go to trial. This power imbalance is a racket, a shakedown, that has little to do with justice and everything to do with a parasitic business practice.
For evidence of the strong economic incentives favoring plaintiff firms, we need look no further than Google. The phrases "mesothelioma attorney," "mesothelioma lawsuit" and "mesothelioma claims" are among the most expensive keyword search terms on Google AdWords, the ads that pop up next to search results on Google. Or, consider that on the radio or TV, you are bound to hear an ad promoting a law firm that represents asbestos plaintiffs. The firms would not be expending so much money on advertising if the asbestos litigation business did not support it.
For years I have heard defendants bemoan the collaboration between plaintiffs but the lack thereof between defendants. Why is that? Why do defendants, as predicted by game theory (recall the movie "A Beautiful Mind"), often act in their short-term interest, rather than collaboratively and for the longer term? I believe one reason is that they lack the mechanisms and platforms for meaningful collaboration.
This is why I wrote the article about defendant collaboration and why KCIC has invested so heavily in tools for collaboration: BEV, CODA and Ligado. These tools are designed to provide platforms and mechanisms where defendants may collaborate in a constructive and meaningful way that is fair and confidential. We're sticking our neck out, certainly. But it is worth it to try to correct some of the imbalance in the tort system, so that the litigation business is less about business and more about justice.
For more details, you can also see us at the DRI Asbestos Medicine Seminar in Las Vegas, Nov. 2-3, and watch for a follow-up post soon after.