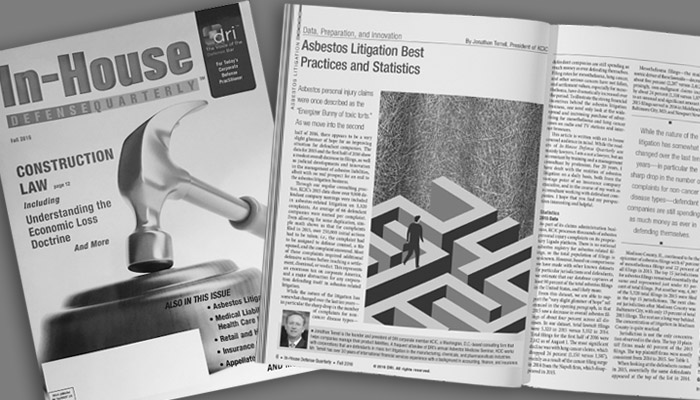 Published this week, the Fall 2016 issue of DRI's "In-House Defense Quarterly" magazine features an article I penned for them: "Asbestos Litigation Best Practices and Statistics".
I wrote it with an in-house counsel audience in mind. I'm not a lawyer, but I shared my vantage point of having dealt with the realities of asbestos litigation on a daily basis, both in my previous life as an insurance company executive and in the course of my work now — consulting with defendant companies.
In my experience, the defendant companies that are surviving best in the tort system are:
Utilizing data to their advantage
Preparing for both litigation and settlement
Embracing and driving innovation in the management of this most intractable of torts.
I cover all three topics in the article. Along the way, I discuss these topics and more:
KCIC's latest asbestos litigation data pulled from our "Asbestos Litigation: 2016 Mid-Year Review" and our "Asbestos Litigation: 2015 Year in Review"
How embracing technology can help get your claims, defense history, and insurance coverage, in order.
Why a combined settlement and defense strategy often seems to work best.
Legal developments such as the Garlock decision, as well as transactions that have enabled Berkshire Hathaway to amass the largest concentration asbestos-related liabilities in the industry and in history.
How technology can assist defense counsel in taking more targeted depositions — facilitating questioning that establishes prima facie evidence for the potential of a bankruptcy trust claim and additional shares in the litigation.
How defendant companies are negotiating inventory and long-term settlement arrangements more often.
KCIC is a DRI corporate member and frequent attendee of DRI's annual Asbestos Medicine Seminar. KCIC will be at the 2016 seminar, which will be held Nov. 10-11 in New Orleans.