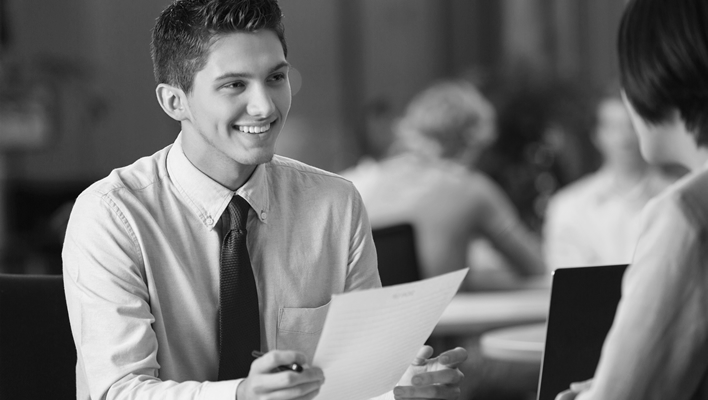 The KCIC team will welcome two college interns this summer and eight new employees in the fall as a result of our recent college recruiting efforts — making Spring 2015 our most successful recruiting cycle to date!
Our Recruiting Process
Each year, KCIC invests significantly in our undergraduate recruiting program. We have longstanding relationships with schools such as the George Washington University, the University of Virginia, the College of William and Mary, the University of Richmond, and Johns Hopkins University. We review hundreds of resumes, conduct first-round interviews with selected students on their respective campuses, and have second-round interviews in our office.
The process is a two-way street. In addition to us learning more about the candidates, the recruits become well-informed about their potential responsibilities, the many opportunities that will be available to them at KCIC, and the rich experiences they will accumulate. Along the way, each candidate will have met with at least five members of our management team and several consultants who can share their experiences at KCIC and provide insight into the transition from college to the professional world. After visiting our offices, the candidates have first-hand exposure to our culture and environment.
Our Team: High-performance, High-energy
Why do we spend more than 250 hours on this process? The answer is simple: our people make KCIC what it is! The annual recruitment of undergraduates is vital to maintaining our high-energy, high-performance, collaborative environment. Recent graduates bring the latest skills in developing technologies, innovative ideas, and fresh perspectives, all of which foster creative client solutions.
Past college recruits have gone on to take positions on the KCIC management team, leading client projects and bringing in new business. They have played integral roles in the design and implementation of Ligado, our industry-leading technology platform. Many have also obtained graduate degrees in business, economics and information systems through our tuition reimbursement program.
A Preview of This Year's Class
This year's class will come with degrees in Systems Engineering, Economics, International Affairs, and Commerce. Their previous professional experiences include internships in big data, finance, marketing, and communications. They are leaders in university student organizations, skilled musicians, college athletes, and improv comedians. They have proficiency in five languages and have performed countless hours of service in their communities.
We look forward to welcoming our new team members in the coming months, and then it's on to preparing for the next round in 2016!
What do you wish someone had told you as you transitioned from college to the professional world? What piece of advice could you give KCIC's new recruits?